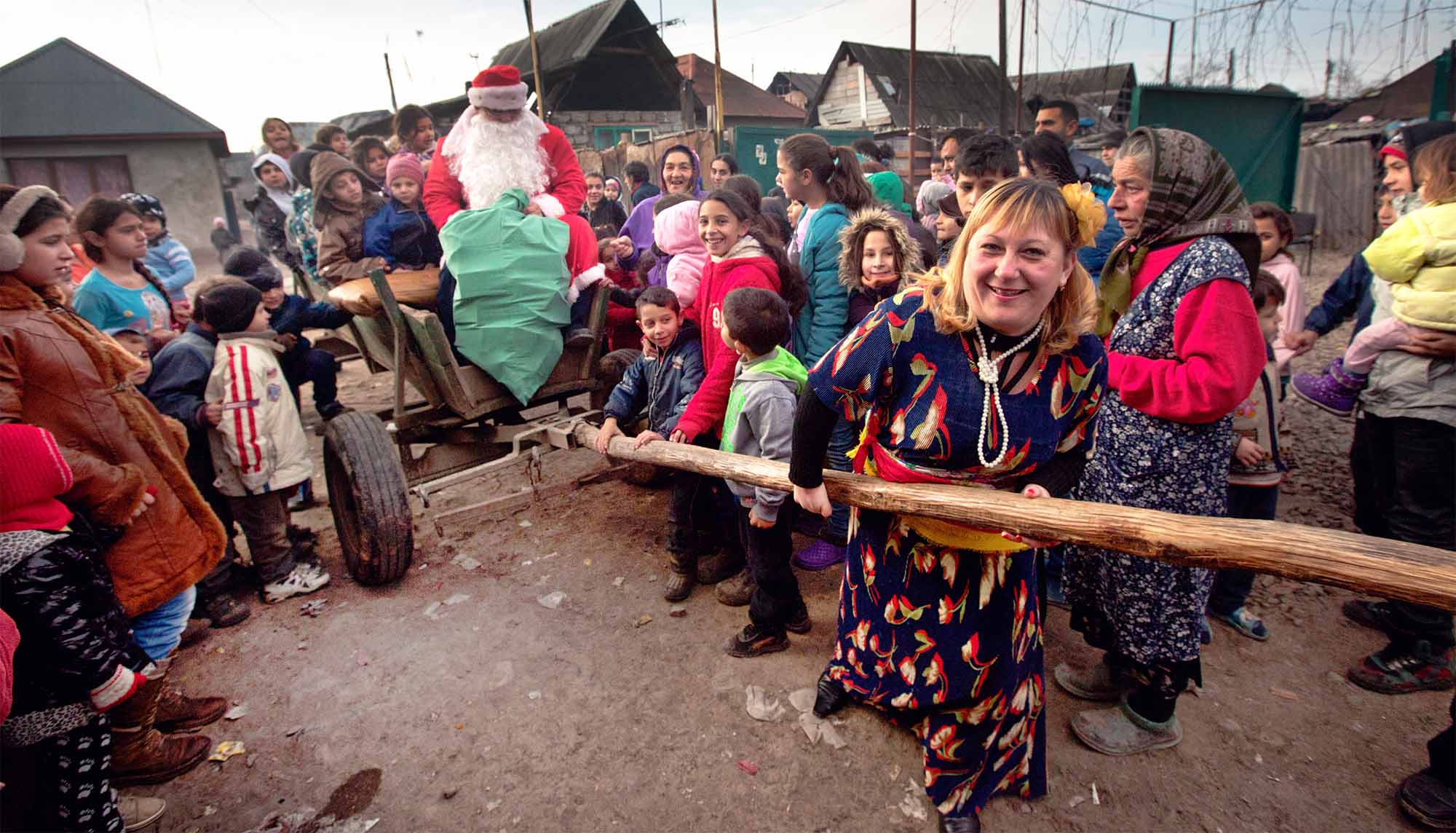 Before the New Year, St. Nicholas did not forget about the small Gypsy children from a deprived background, who live in the Mukachevo camp.
As part of the campaign to collect sweets and fruits for the little Gypsies, we held a small but very emotional celebration of St. Nicholas in Gypsy camps. In order for the little Gypsies to feel warmth and joy, we collected and distributed 700 sweet gifts.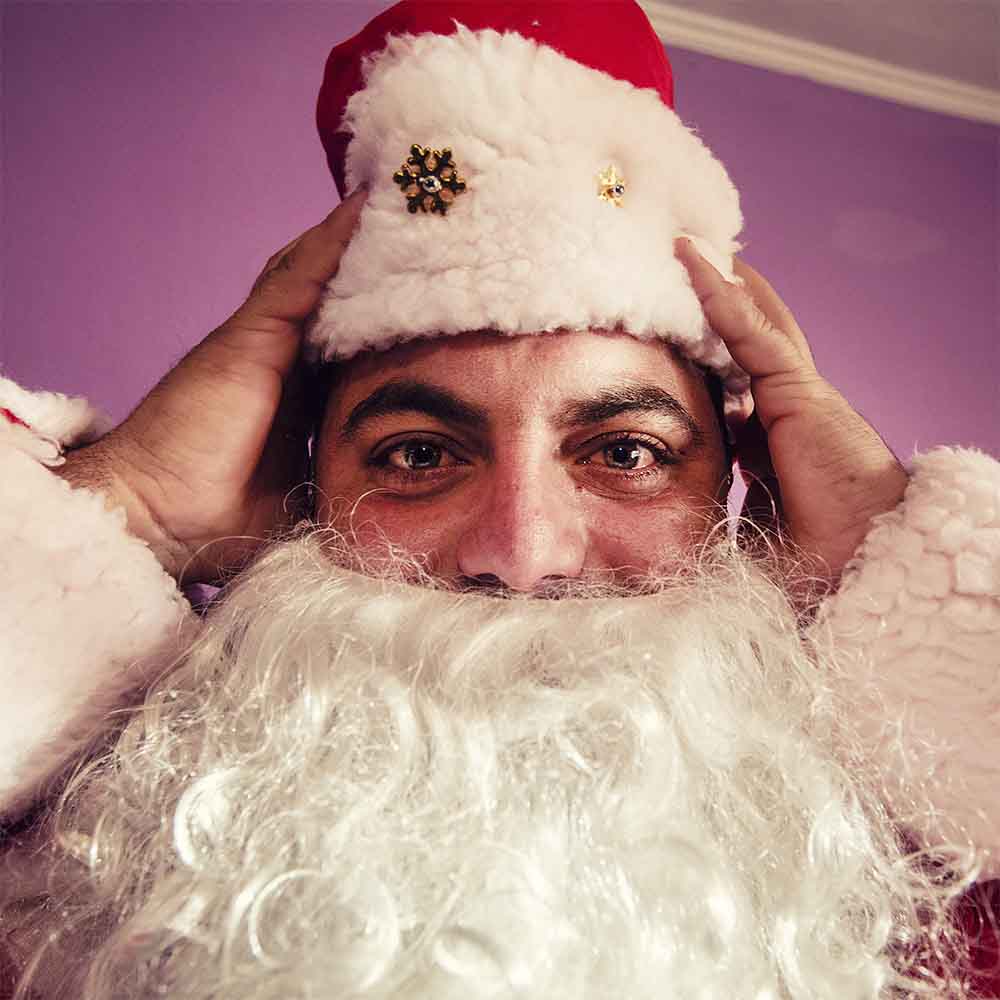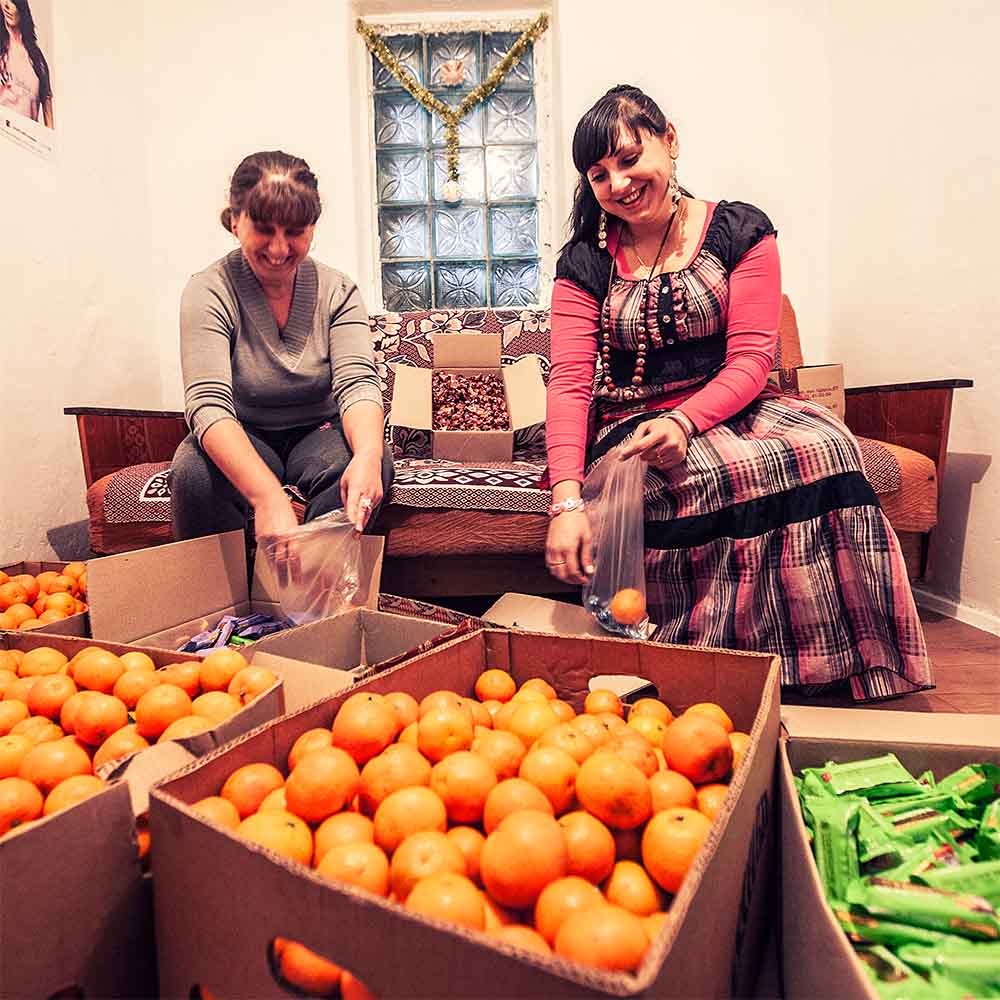 This year, the building of the Charitable Fund "Razvitie" has become the residence of St. Nicholas, which was in the Gypsy camp. The day before, the fund's employees packed sweets and fruits for gifts here.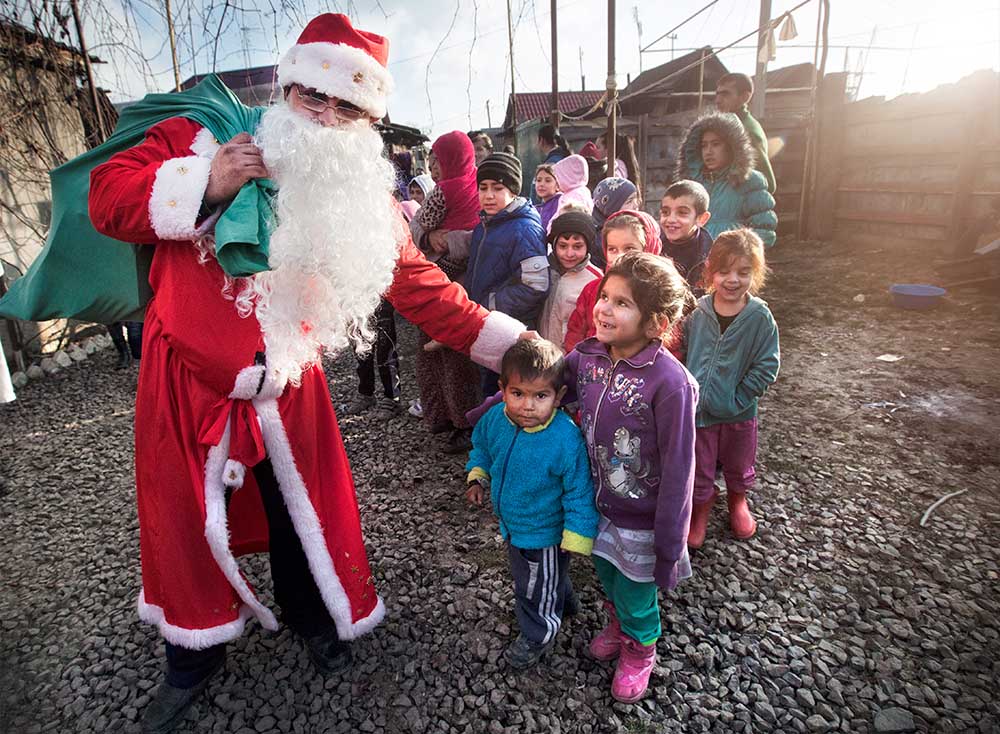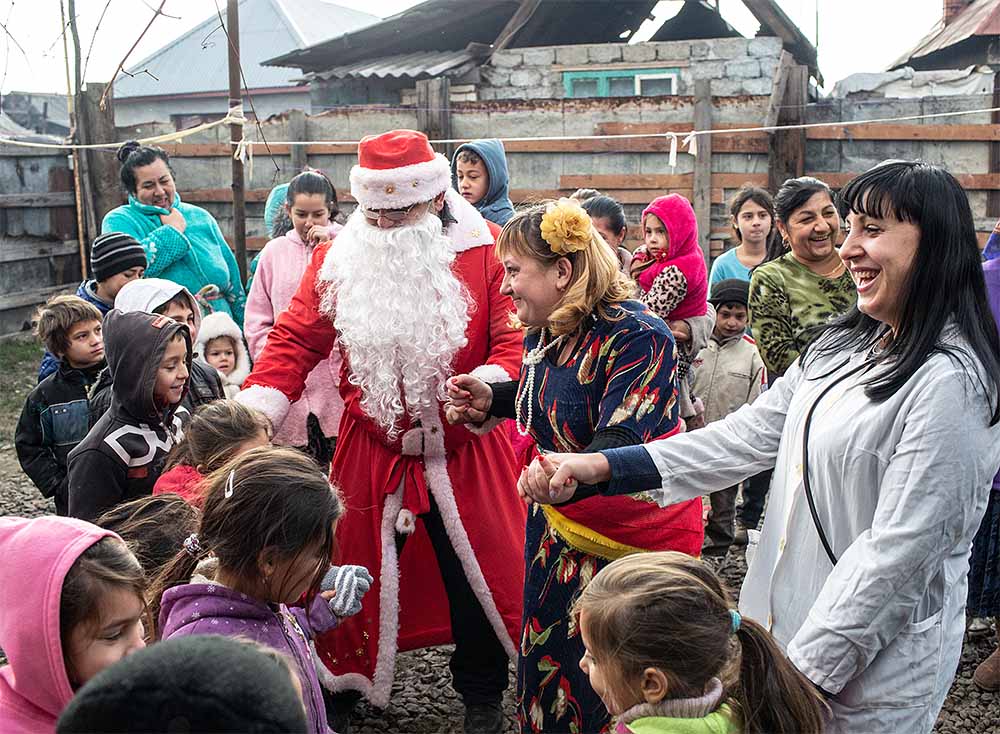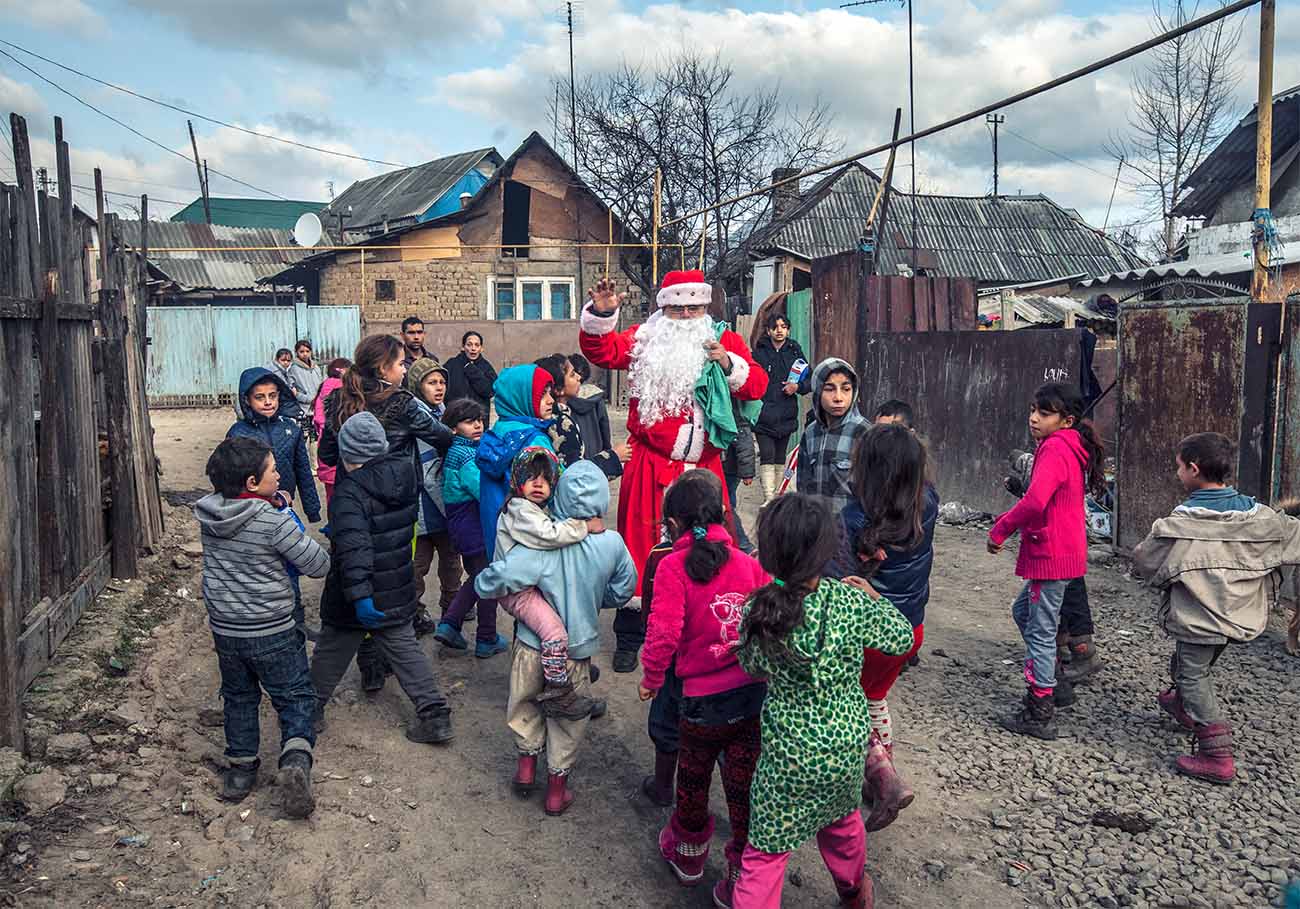 Since there were many gifts, and only two costumes, our Renata had to be dressed in a nurse's costume. At first, the kids were scared, and then we broke the stereotype in relation to doctors, Renata became a favorite among children. We were also lucky with Nicholases, one of them was helped to restore passport documents, so we can safely assure you that St. Nicholas is real and he exists.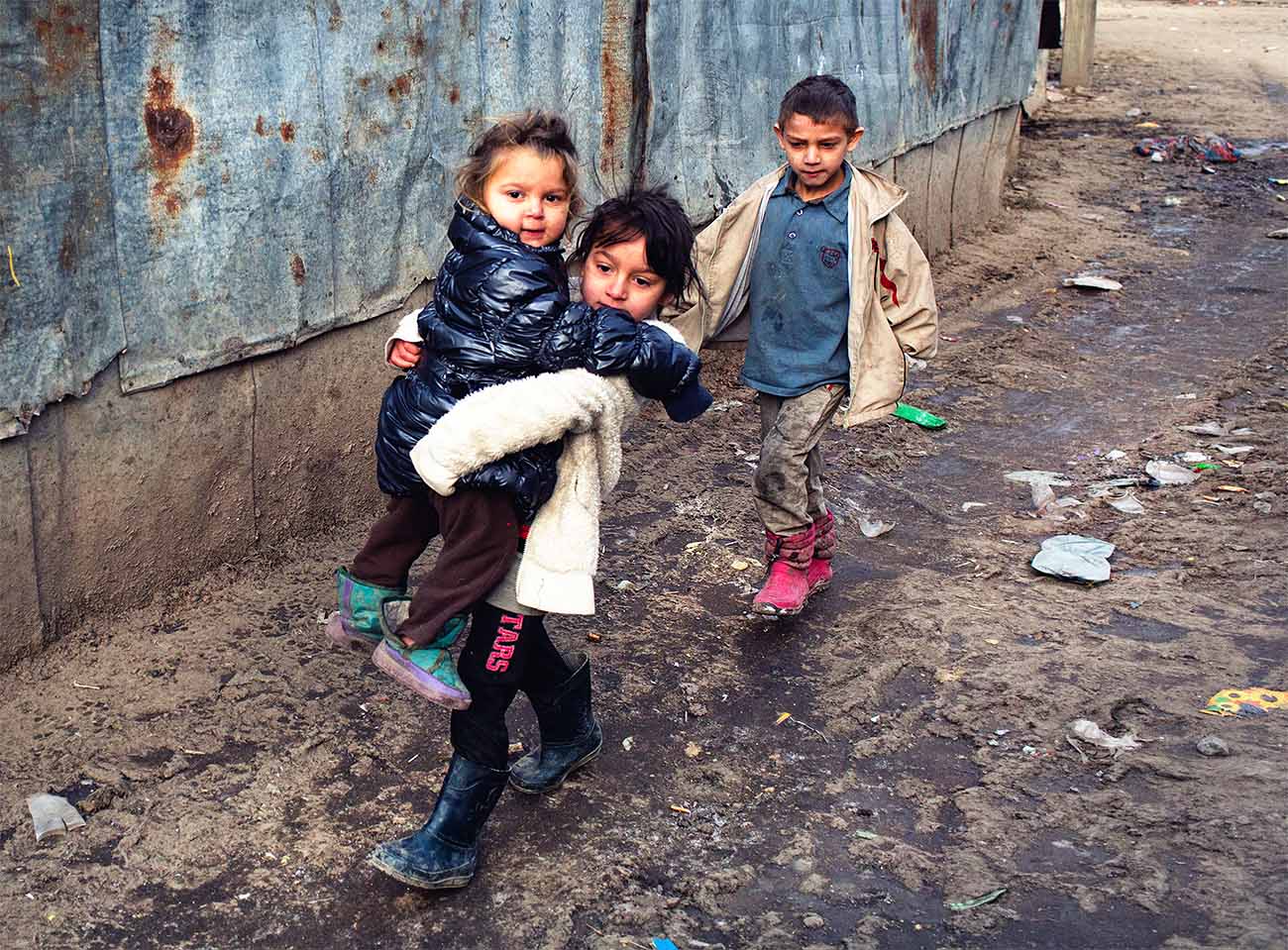 The children poured out into the street dressed in what they were, as soon as they saw St. Nicholas dressed in a red and white costume, with a white beard and a bag of gifts.
Their mothers pulled on their hats and warm clothing on the run. Noisy and smiling children came running together in a few minutes, and there were also very young mothers, who were also interested in watching the celebration.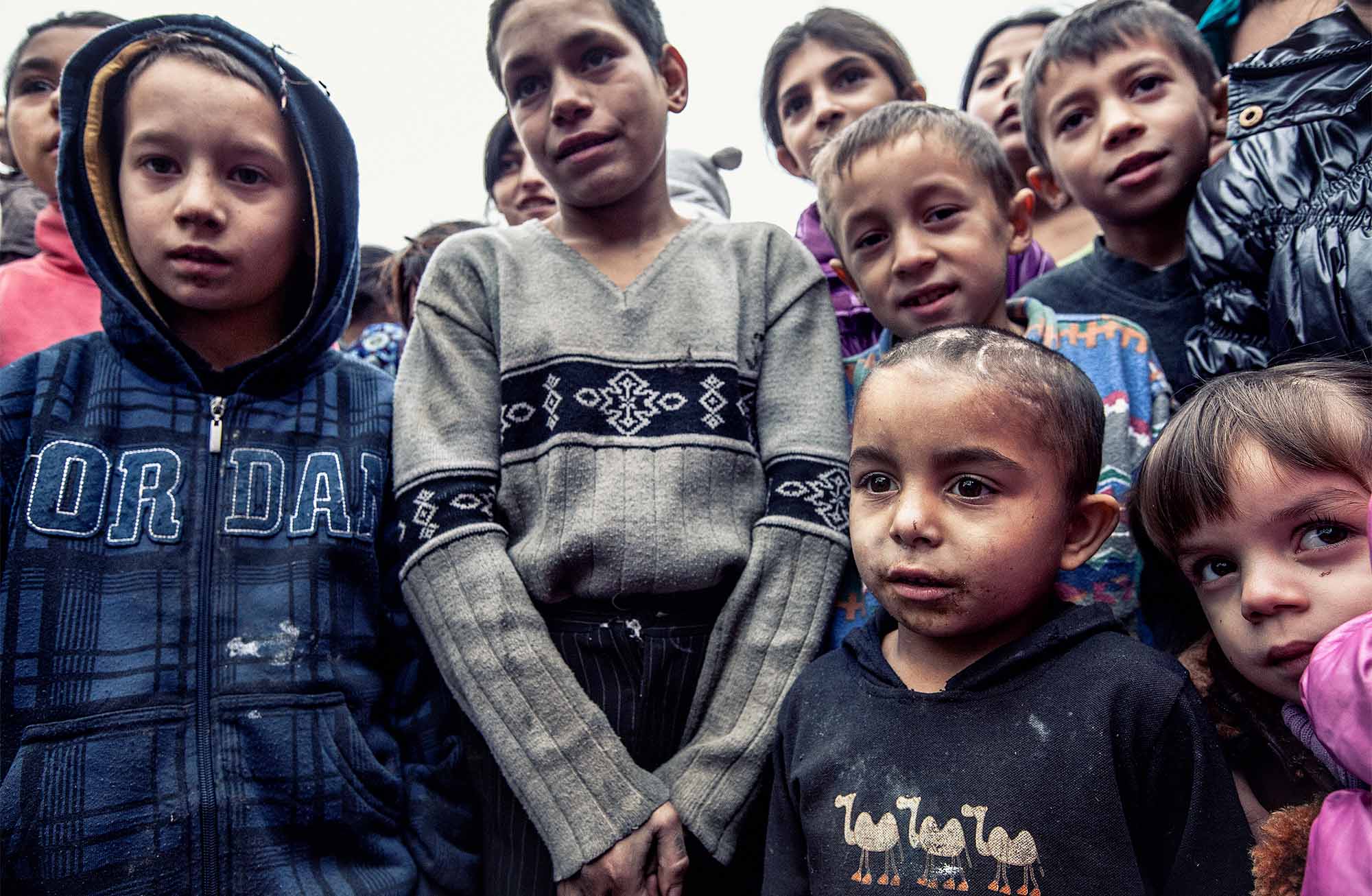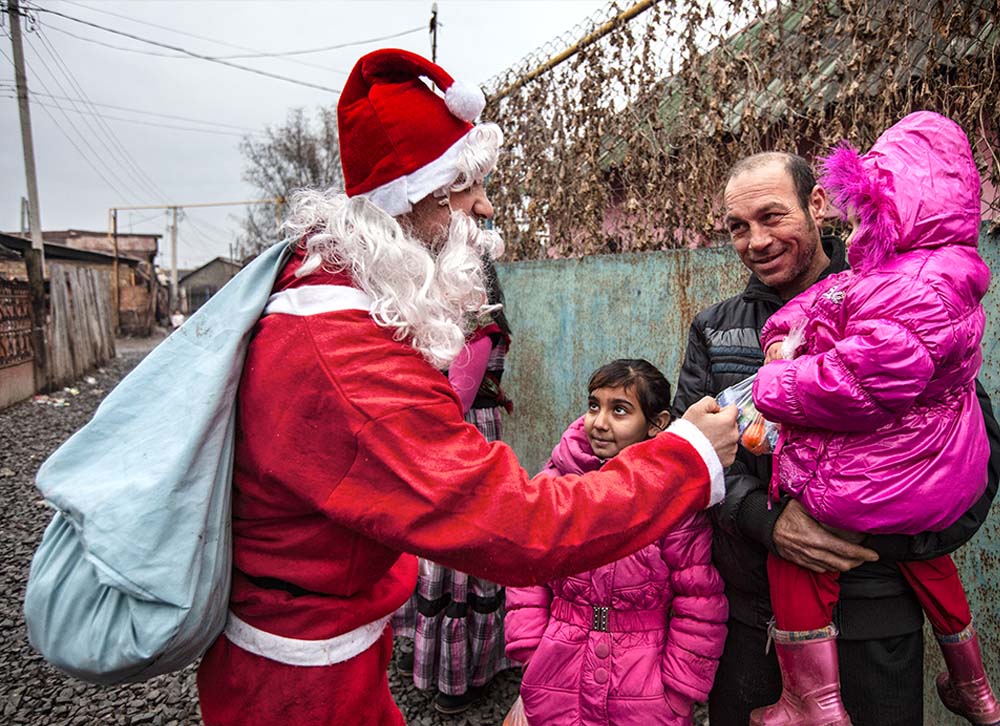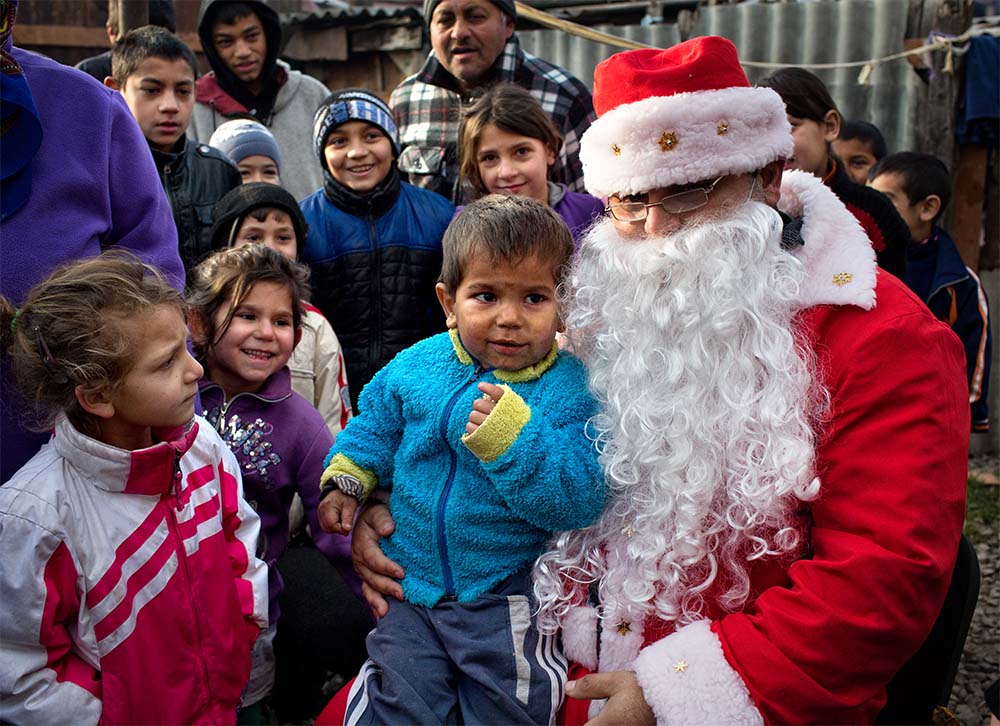 Within 10 minutes, after we turned on the music, the number of children began to grow exponentially. Such a bright congratulation is a rarity for Gypsy children. They were unspeakably happy to see St. Nicholas live in person, vying with each other, approached him, sat on his knees and declaimed poems, sang Gypsy songs that their parents had taught them to sing, danced and received cherished sweet gifts.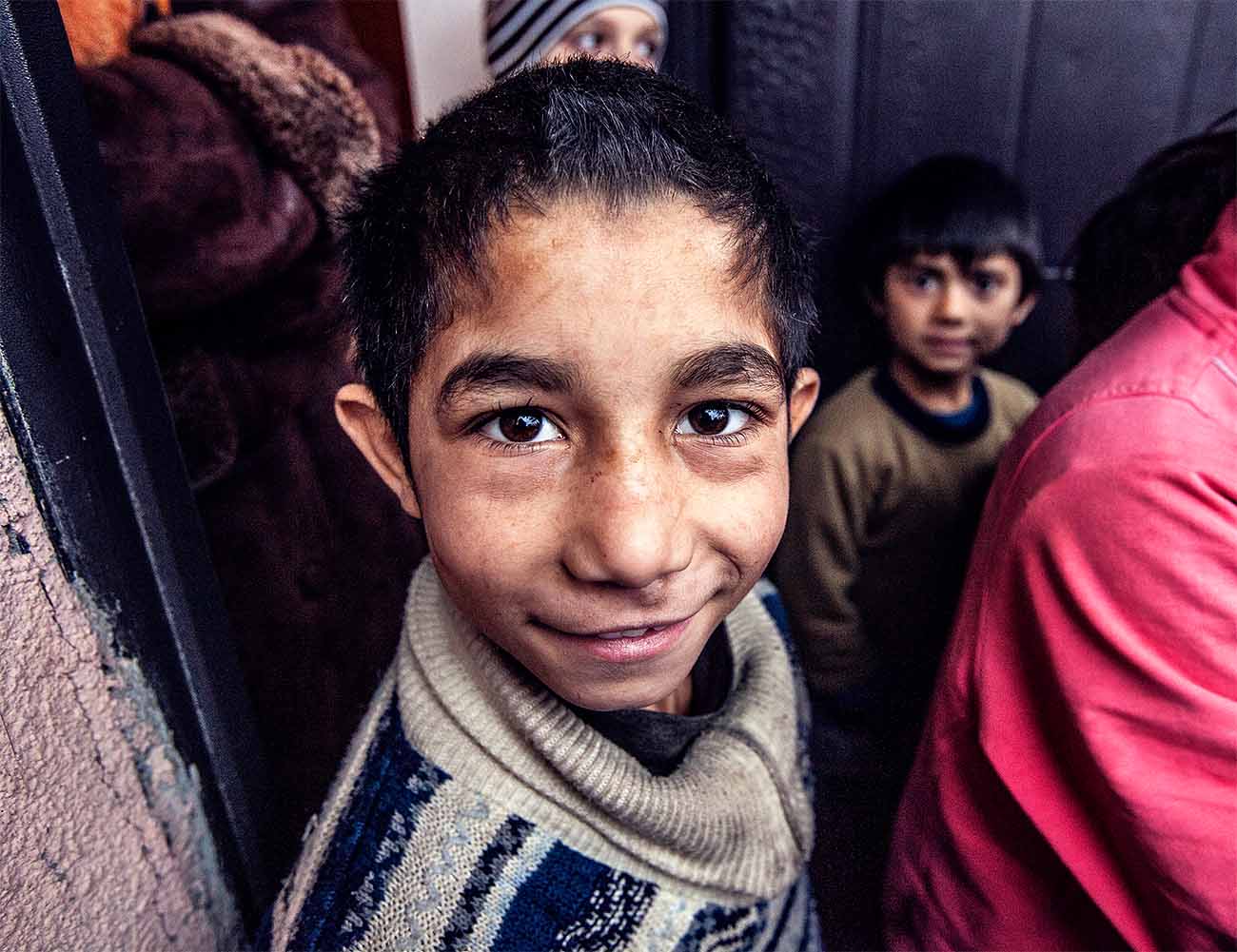 The smart and cute guys managed to get two gifts for their brothers and sisters. A boy runs up to St. Nicholas and says: "St. Nicholas, could you give a gift to my brothers too – my mother gave birth to triplets, they are six months old, but they still need gifts. I will give them gifts, I promise." And since everyone is related to each other, most of the children received gifts both personally and from their brother or sister.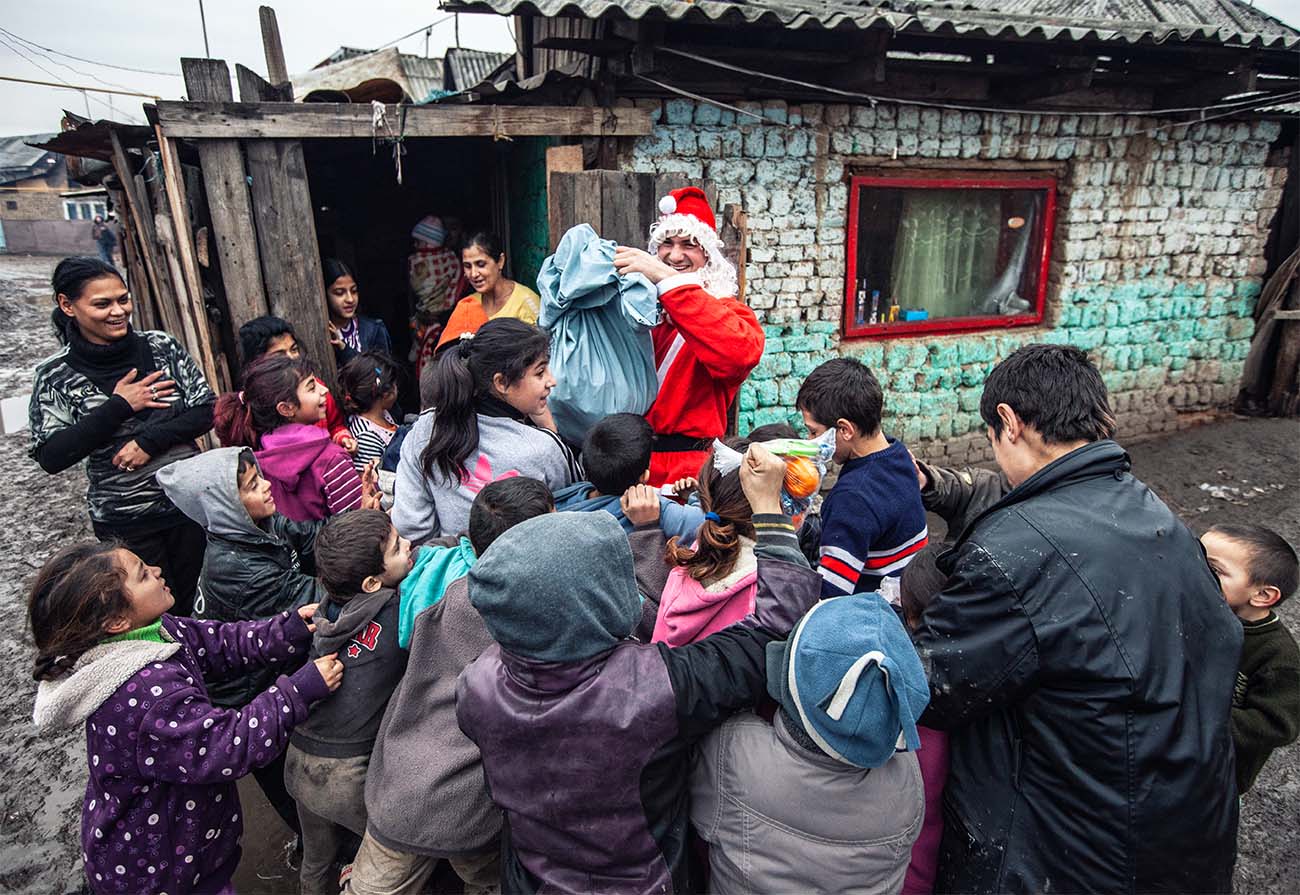 Each child was able to have a talk with St. Nicholas face to face and to receive a gift from his hands – tangerines, chocolate and caramel sweets.
St. Nicholas visited personally those who could not come themselves. It was nice to see the joy on the children's faces and the faces of their parents. Very young children sometimes cried from an excess of emotions, but they were quickly comforted by their mothers. Children are very open to kindness and care, and it does not matter that they are grubby, dressed in old torn clothes – a celebration and joy is for everyone.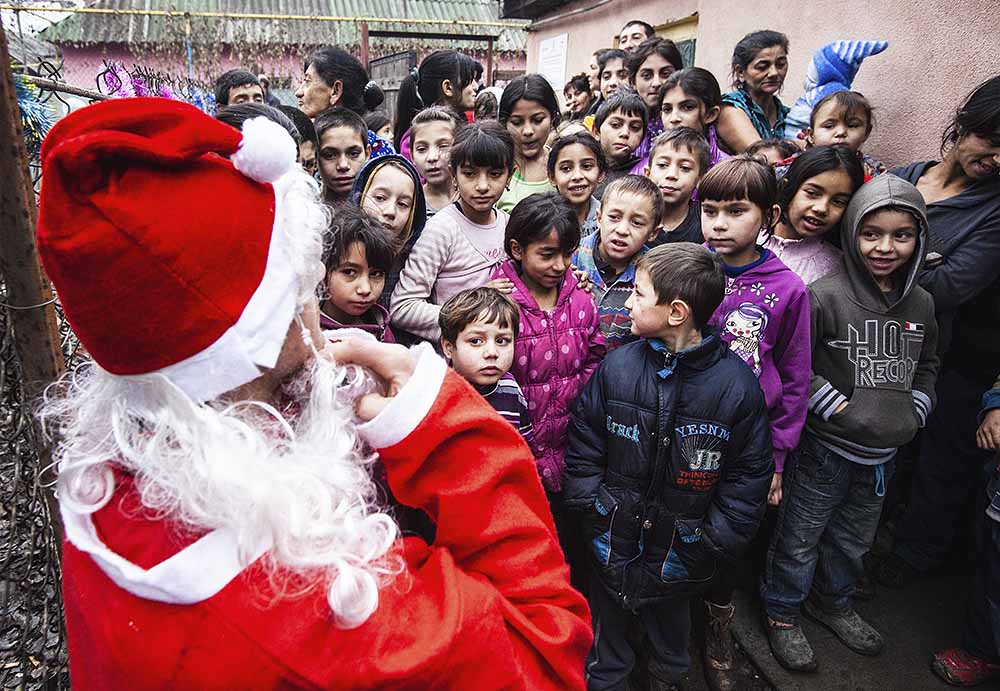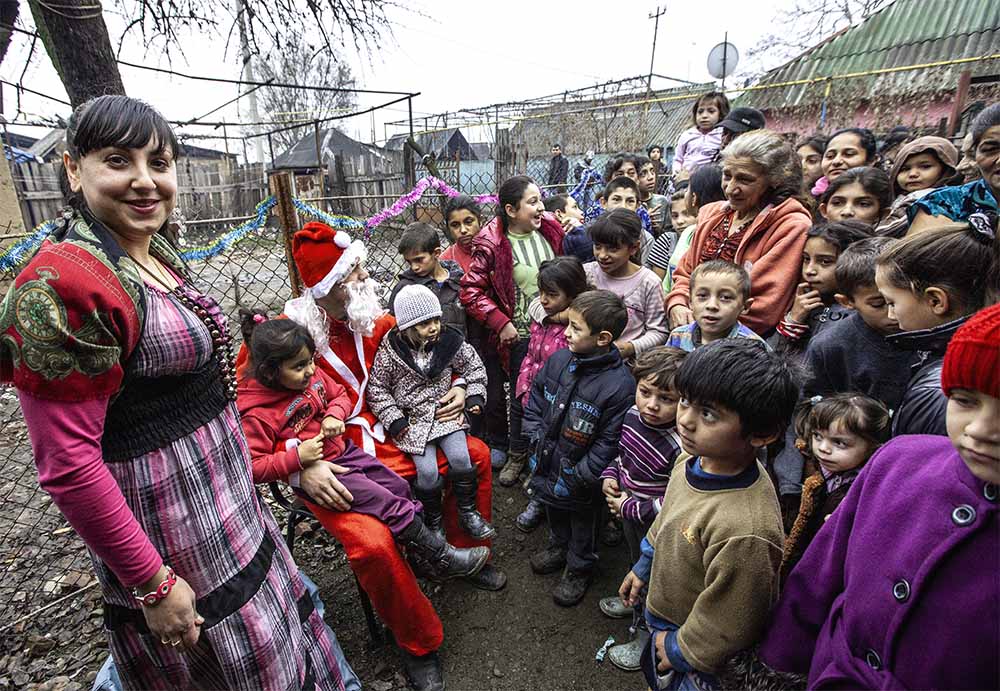 The children were happy not so much from receiving gifts, but from the attention, communication and care shown by someone from outside the camp, because this is what they really lack because of their ethnic origin.
The smartest and most active children received two gifts each.
Parents did not have time to drag the children away, as they again climbed onto Santa Claus's lap and tested the beard for strength. Then we began to walk the streets and enter houses, and a crowd of children ran after us.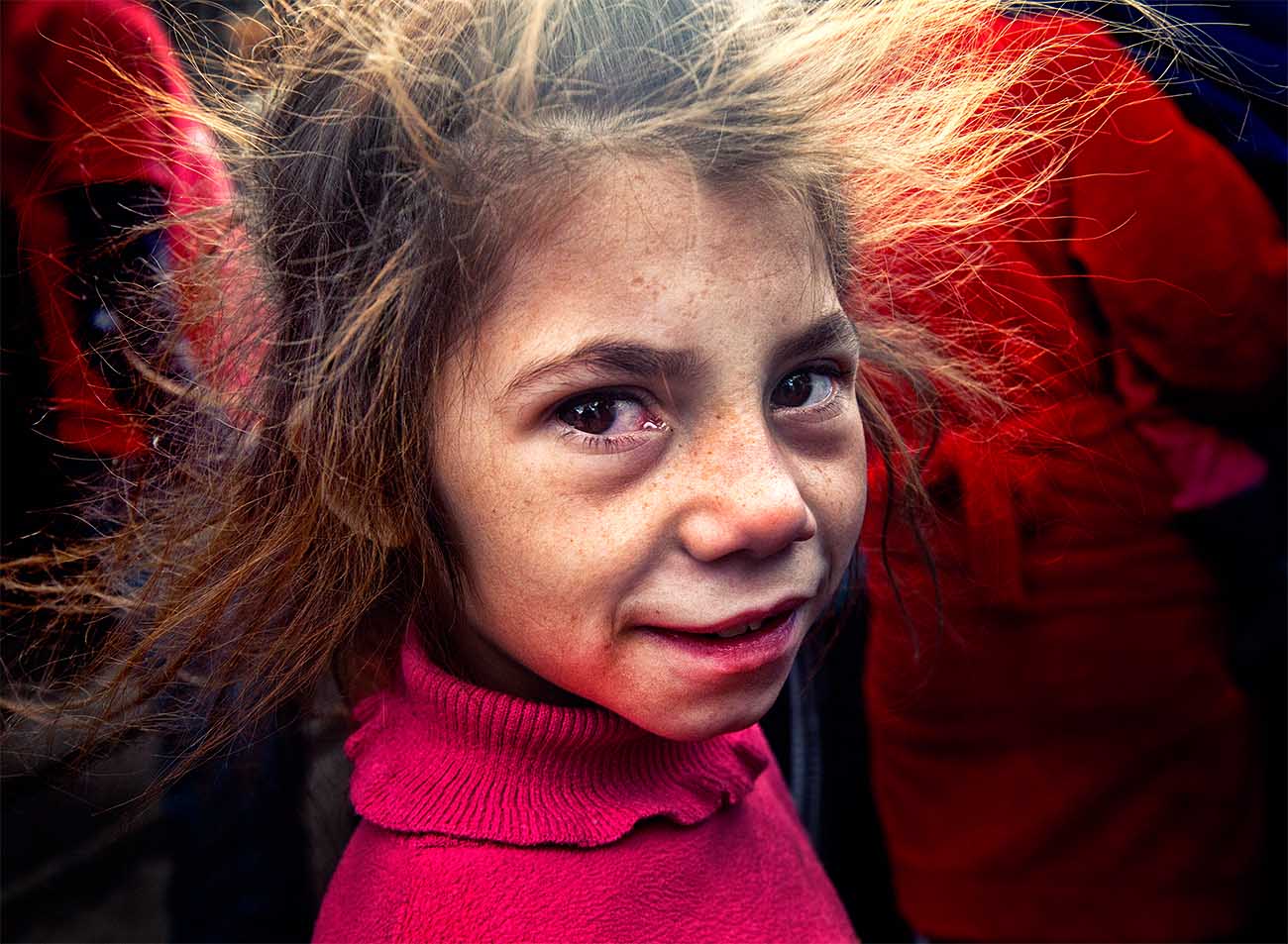 The children expressed their joy very sincerely, they were very friendly, open hearted and smiling. By the way, they behave very freely and spontaneously, because due to Gypsy traditions, their parents forbid them little.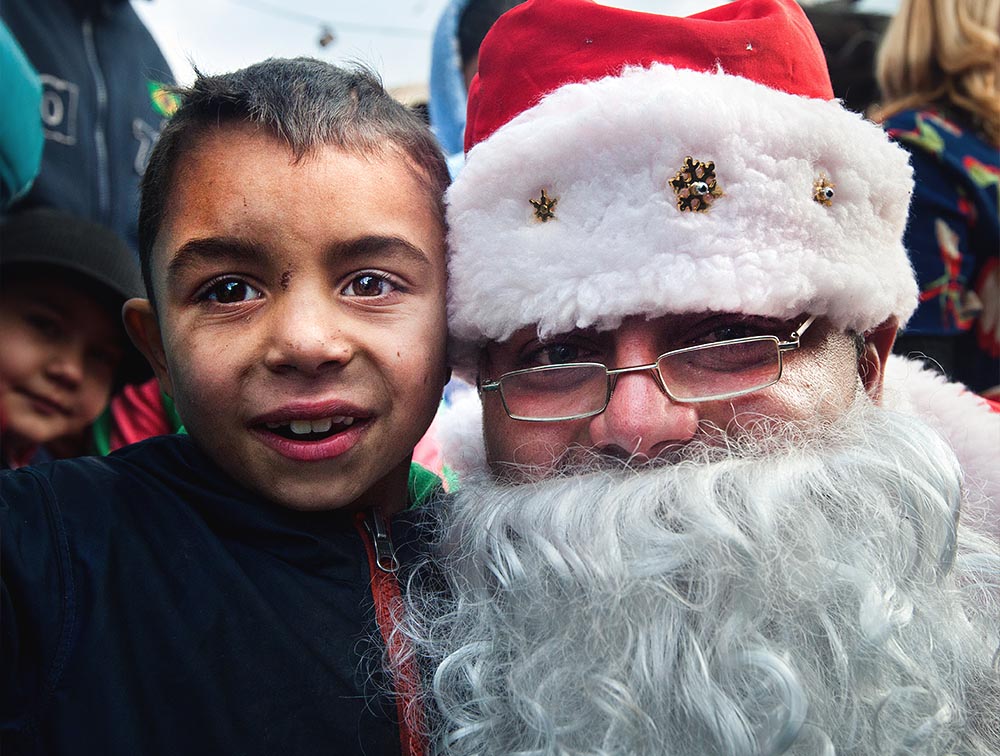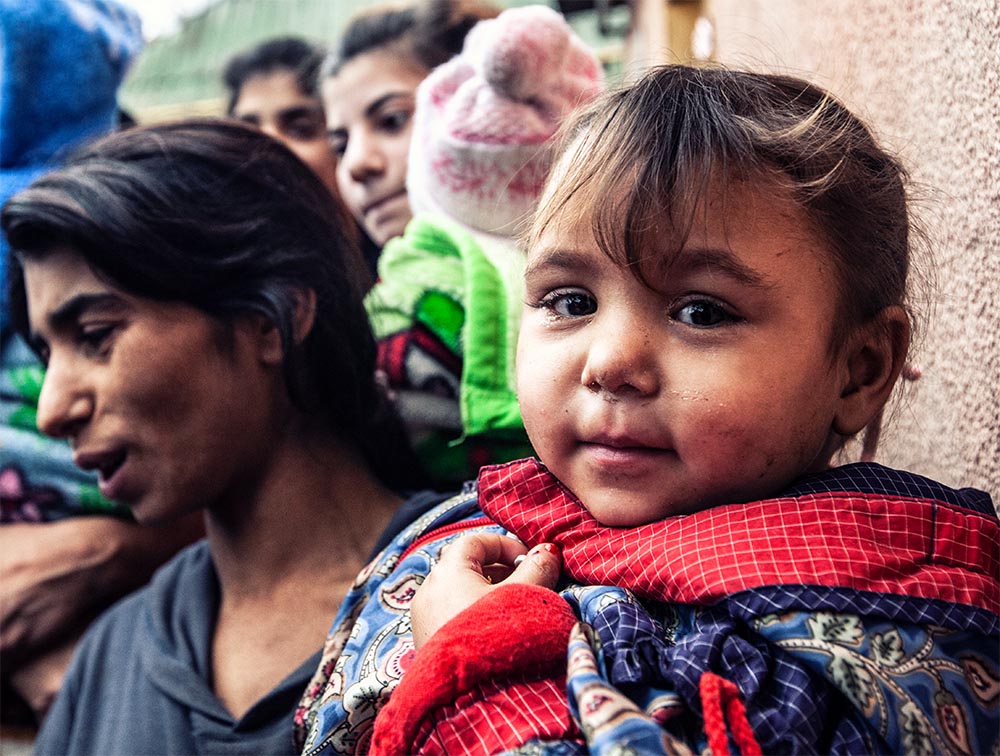 We consider open communication with the Gypsy population of our city to be an important and essential element of our social responsibility. At such moments, you are once again convinced that the Gypsy are no different from us, they are just as cheerful and kind as we are. Kindness and openness are within us, we just need to share it, and you will see in the slightly grubby Gypsy children the most ordinary happy children who live next to you in the same beautiful city – the city of Mukachevo.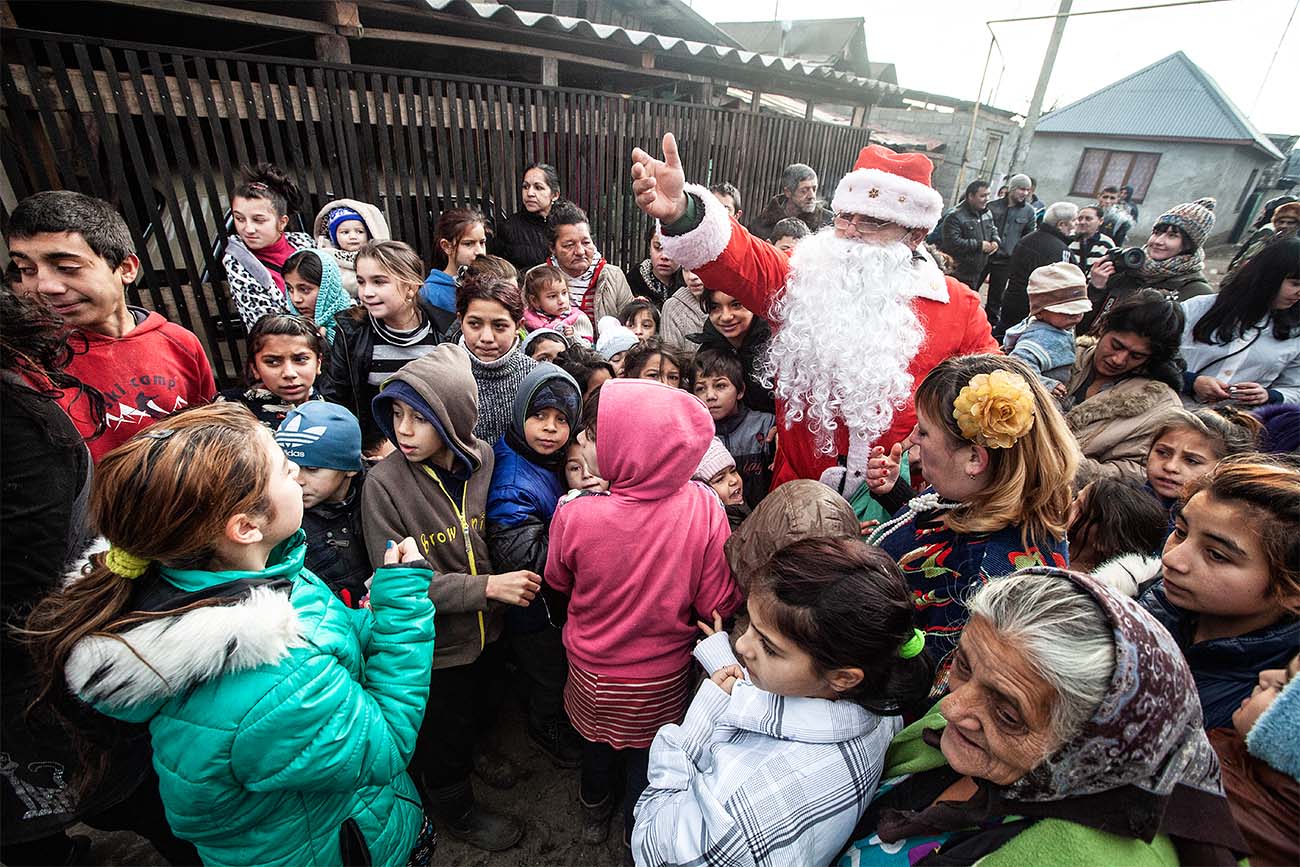 It's nice to see a happy smile on the child's face, and, at the same time, realize that it was you who helped him give moments of happiness.
We are sure that we managed to convey the New Year's atmosphere of the children's holiday, and the children received a storm of emotions and unforgettable impressions.
In turn, we want to express our deep gratitude to all those residents of Mukachevo, who joined the action and contributed to this event. It was very nice when people called, came to us and brought some – money, and some – sweets and fruits for the Gypsy.